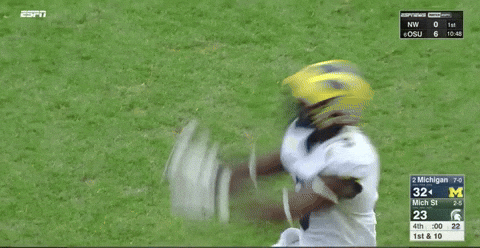 HIGH SCHOOL
As we all remember, Peppers went to Paramus (NJ) Catholic, where he was coached by current Michigan linebackers coach Chris Partridge. He chose Michigan in May of 2013 (LINK), roughly nine months before National Signing Day. One of the most celebrated players in the 2014 class altogether, Peppers was a star in New Jersey for winning four state championships (two at Don Bosco, then two at Paramus Catholic) and generally having ridiculous athleticism. I gave him a TTB Rating of 100.
Hit the jump for more on Peppers's career.
COLLEGE
Peppers was expected to make an immediate impact in college, but his season started off slowly and ended with a whimper. He made 8 tackles and 1 punt return for 6 yards during the first three games, but a lower leg injury forced him to sit out the final nine games of the year. When Brady Hoke was fired, new head coach Jim Harbaugh and new defensive coordinator D.J. Durkin had big plans for Peppers. They played him mostly as a slot corner as a redshirt freshman; he responded with 45 tackles, 5.5 tackles for loss, and 10 pass breakups. His most exhilarating plays were left for offense, though, where he played running back and slot receiver. Overall, he rushed 18 times for 72 yards and 2 touchdowns, and he caught 8 passes for 79 yards. Once Durkin left to be the head coach at Maryland, new defensive coordinator Don Brown came in with an eye toward putting Peppers at SAM linebacker, so he put on a few pounds. He made 72 tackles, 16 tackles for loss, 4 sacks, 1 interception (for 11 yards), and 1 forced fumble in 2016. He also continued to shine on offense (27 carries, 167 yards, 3 TDs) and special teams (14.8 yards/punt return and 1 TD, 26.0 yards/kickoff return). While he didn't put up otherworldly statistics in any single category, the breadth of his work was impressive. College football rarely sees a player contribute so much in all three phases of the game, and that was likely the impetus for him getting invited to New York City as a Heisman finalist.
STATS
125 tackles, 21.5 TFLs, 4 sacks, 1 INT (for 11 yards), 1 FF, 10 PBUs
45 carries for 239 yards (5.3 yards/carry) and 3 TDs
10 catches for 82 yards (8.2 yards/catch)
18 kickoff returns for 483 yards (26.8 yards/return)
39 punt returns for 510 yards (13.1 yards/return) and 1 TD
AWARDS
5th place in Heisman voting (2016)
Paul Hornung Award (2016)
Lott IMPACT Trophy (2016)
Unanimous First Team All-American (2016)
Big Ten's Nagurski-Woodson Defensive Player of the Year (2016)
Big Ten's Butkus-Fitzgerald Linebacker of the Year (2016)
Big Ten's Rodgers-Dwight Returner of the Year (2016)
All-Big Ten First Team Linebacker and Return Specialist (2016)
SUMMARY
This sounds extremely petty, but as a Michigan fan, I can't help feeling shorted a little bit on the Jabrill Peppers Experience. When he signed in 2014, he was the number one Michigan recruit of the Rivals era (LINK), since surpassed by #1 overall player Rashan Gary. When I looked back at the top cornerback recruits in the modern recruiting era (LINK), I came up with a comparable of Eric Berry. Michigan got some great performances out of Peppers, but not as many as hoped. Frustratingly, he only played three games as a true freshman, and then he proceeded to miss each of the bowl games following the 2015 and 2016 seasons. As an early entrant to the NFL draft after a medical redshirt and two mostly fulfilled seasons, he played in just 27 games as a Wolverine, or an average of 9 per year. He might have helped Brady Hoke win a couple more games in 2014 (though that may have helped Hoke's job security, which probably would have been a negative), and his absence from this past season's bowl game against Florida State probably cost Michigan a victory and an 11-2 season.
On top of the injury stuff, Peppers never turned out to be the turnover machine that many expected of him. The #1 cornerback in the class of 2014 ended his career with just 1 takeaway, an intercepted deflection against Ohio State. Literally every other #1 cornerback in the Rivals era forced more turnovers during his career, save for a couple guys who ended up playing offense. He never scored a defensive touchdown, and he only broke up 10 passes – all of which came in 2015.
But that's enough of the bad stuff. Peppers was exhilarating at times. He probably could have excelled at numerous positions if he had ever settled down, including running back, slot receiver, cornerback, safety, or outside linebacker, not to mention punt returner and kick returner. Whenever he had the ball in his hands, thoughts of Denard Robinson popped into mind. Anything could happen, and while he didn't have the pure top-end speed of Robinson, he was a little more unpredictably agile. He also took some chances with catching the football on punt returns that always looked dangerous, and yet they never ended poorly. While he did muff a couple punts that skittered out of bounds or he recovered himself, he never had a turnover on any of the 113 times he touched the ball during his career. That's pretty remarkable for a guy who spent most of his time playing defense.
I WILL REMEMBER HIM FOR . . .
. . . his negated punt return touchdown against Rutgers in 2016. The ball skills, speed, agility, and awareness were all on display on that one play. Symbolically, it represents a career that could have been awesome but never quite reached its potential.

PROJECTION
There's been some talk that Peppers will slide to the second round of the NFL Draft, but I don't see that happening. Even if he's a safety/linebacker tweener and even if he hasn't blown people away with his play or his testing numbers, the potential is too high for him to drop out of the first. Some team with a good roster already will take him and figure out what to do with him.
You need to login in order to vote