Previously: QB vs. QB, Michigan RB vs. FSU LB, Michigan WR vs. FSU secondary, Michigan OL vs. FSU DL
MICHIGAN
Starters: Michigan's top three tacklers are the three starting linebackers, and they rarely come off the field. The most well known is redshirt sophomore Heisman finalist Jabrill Peppers (6'1″, 205 lbs.), the SAM linebacker – a hybrid S/LB – who ended the regular season with 71 tackles, 15 tackles for loss, 3.5 sacks, 1 interception, and 7 quarterback hurries. Peppers plays all over the place and will have his hands full with Florida State likely choosing to run right at him since he's undersized for a linebacker. The leading tackler is 6'3″, 247 lb. senior middle linebacker Ben Gedeon. He made 98 stops (tied for #10 in the conference), 15 TFLs, and 4.5 sacks. Gedeon is much improved this season, a good athlete, a heavy hitter, and an effective blitzer. The WILL linebacker is 6'4″, 248 lb. redshirt junior Mike McCray II (71 tackles, 13 TFLs, 4.5 sacks, 6 PBUs), who plays a lot like Gedeon, though he's more instinctive in defending the pass. The trio makes for Michigan's best linebacker corps in . . . a long time.
Key backups: Michigan doesn't substitute much, but the most likely true linebacker to play is 5'11", 232 lb. freshman Devin Bush (11 tackles, 0.5 TFLs), a backup WILL. Redshirt sophomore Brandon Watson (5'11", 203 lbs.) will also likely play some on defense, and he's a backup for Peppers at SAM, though he's used more like a slot corner.
Hit the jump for a look at Florida State's running game (a.k.a. Dalvin Cook).
FLORIDA STATE
Starters: Two-time First Team All-American Dalvin Cook lines up at tailback for Florida State, and he's the focus of FSU's offense. The 5'11", 213 lb. junior has 268 carries for 1,620 yards (6.0 YPC) and 18 touchdowns, along with 30 receptions for 426 yards (14.2 yards/catch) and 1 touchdown. Cook is the best running back Michigan will face this season. He's fast, powerful, and slippery with good vision. He has had two 225+ yard games this season, against USF and Syracuse. (For comparison's sake, the last Michigan running back to go over 200 yards was Mike Hart in 2007, and the last one to do it twice in one season was Hart in 2004.) Michigan's defensive line will need to bottle Cook up, because once he gets in space, he's someone who has to be corralled, not brought down one-on-one. The Seminoles also have a senior fullback in Freddie Stevenson (6'1″, 241 lbs.) who plays a fair amount. He has 12 carries for 90 yards (7.5 YPC) and 4 TDs on the season, along with 1 catch for a 6-yard touchdown. So he only gets about 1 touch per game, but he makes it count. He's more Sione Houma than Khalid Hill.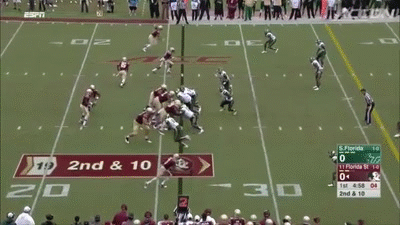 Key backups: The Seminoles have a high-quality backup tailback in sophomore Jacques Patrick (6'2″, 231 lbs.), whom you may remember from Michigan's pursuit of him in the 2015 class. He has 60 carries for 348 yards (5.8 YPC) and 4 TDs, and he's not just a mop-up duty guy. Unlike Michigan's four-headed mini monster at running back, Patrick is the only other running back who is likely to play; the next guy down the depth chart only has 11 carries and only plays in blowouts.
Advantage: Florida State. Unsurprisingly. Yes, the two-time All-American running back has an advantage over Michigan's linebackers, even if one of those linebackers was a Heisman finalist. Cook is faster than Michigan's inside linebackers, and his combination of power/quickness will be a problem for Peppers, too. This is the most problematic matchup for Michigan's defense.
You need to login in order to vote