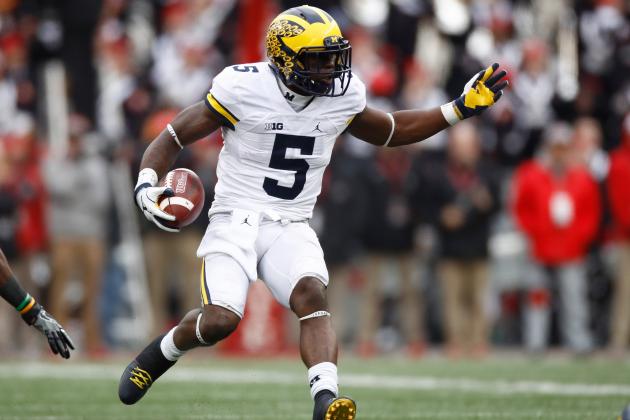 Michigan held its annual Football Bust on Tuesday night, during which team awards are handed out for the season. Here are the awards:
BO SCHEMBECHLER MOST VALUABLE PLAYER
LB Jabrill Peppers
WR Amara Darboh
QB Wilton Speight
RB De'Veon Smith
CB Jourdan Lewis
HUGH R. RADER MEMORIAL AWARD (BEST OFFENSIVE LINEMAN): RT Erik Magnuson
RICHARD KATCHER AWARD (MOST VALUABLE DEFENSIVE LINEMAN): NT Ryan Glasgow, DT/DE Chris Wormley
ROGER ZATKOFF AWARD (MOST VALUABLE LINEBACKER): MLB Ben Gedeon
MOST IMPROVED PLAYER AWARD
QB Wilton Speight
WR Amara Darboh
LB Mike McCray II
CB Channing Stribling
DE Chase Winovich
SCOUT TEAM PLAYER OF THE YEAR
CB Anthony Dalimonte
RB Joe Hewlett
FB Joe Beneducci
OL Ben Pliska
DE/LB Reuben Jones
BOB UFER SPIRIT AWARD (MOST ENTHUSIASM AND LOVE FOR THE GAME): LT Grant Newsome
DR. ARTHUR D. ROBINSON SCHOLARSHIP AWARD (LEADING SENIOR-SCHOLAR):
LT Grant Newsome
CB Matt Mitchell
TE Ian Bunting
OL Greg Froelich
WR Jack Wangler
I think these awards are pretty spot on, though some are impossible to tell. I thought the Ufer and Robinson awards were supposed to go to seniors and Newsome is only a sophomore, but oh well. Some people might think that Peppers was a more valuable linebacker than Gedeon, but I agree that Gedeon was the most important guy in that position group only. Peppers's value comes from him playing some linebacker, yes, but also from his various other positions. The other thing about Gedeon is that he rarely came off the field, partly because there was almost literally nobody else capable of playing MIKE except the starting WILL (Mike McCray). The next guy was converted walk-on defensive end Michael Wroblewski. It was important for Gedeon to stay on the field, and he did so while playing pretty well.
Do you have any quibbles?