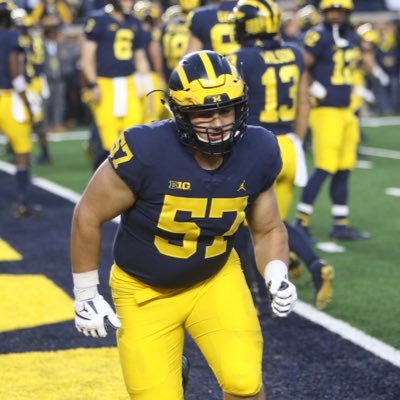 Name: Joey George
Height: 6'0″
Weight: 287 lbs.
High school: Walled Lake (MI) Western
Position: Defensive tackle
Class: Redshirt junior
Jersey number: #57
Last year: I did not rank George. He played in one game.
TTB Rating: N/A
George, a walk-on defensive lineman, achieved what might have been his dream of playing in a Michigan football game last season. Unfortunately, it was across from a mean ol' nasty Wisconsin offensive line that plowed Michigan's defense out onto Main Street.
This spring George earned a mention from Jim Harbaugh as someone who had an excellent spring. I'm pegging Harbaugh's comments as pure hype, considering George's only playing time came in a blowout loss and that George is an undersized 6'0″, 287 lb. lineman on a team that supposedly wants to get bigger up front. Perhaps his height will let him maintain leverage against some opponents, but I'm guessing he will be primarily a scout team guy.
Prediction: Backup defensive tackle