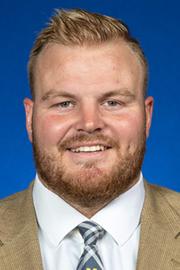 Name: Drake Nugent
Height: 6'2″
Weight: 301 lbs.
High school: Lone Tree (CO) Highlands Ranch
Position: Center
Class: Fifth year senior
Jersey number: #60
Last year: Nugent played at Stanford. He was a team captain and named Honorable Mention All-Pac 12.
TTB Rating: N/A
Nugent appeared in just three games during his first two years on campus in Palo Alto, and then he became a full-time starter in 2021 for the Cardinal. He was named Honorable Mention All-Pac 12 both seasons and even became a Rimington finalist last year. Unfortunately, his team was terrible and didn't get much respect. When head coach David Shaw resigned, a bunch of players hit the transfer portal, including Nugent and offensive tackle Myles Hinton, both of whom ended up in Ann Arbor.
Michigan lost Rimington Award winner Olu Oluwatimi, but reports out of practice suggest the drop-off won't be that noticeable with Nugent snapping the ball. He's a fire hydrant in the middle of the offensive line, and he can move a little bit, too. (Which kind of ruins my fire hydrant metaphor, I guess.) He has good leverage at just 6'2″, and he reportedly has proven to be tough and stout in fall practices after missing time in the spring due to injury. Nugent should start and be backed up by Greg Crippen. Jim Harbaugh has said both players could be All-Americans, but it seems for the second straight year that Crippen will be blocked by a transfer. There's a good chance that Nugent will at least be an All-Big Ten player, if not in line for even higher honors.
Prediction: Starting center
You need to login in order to vote