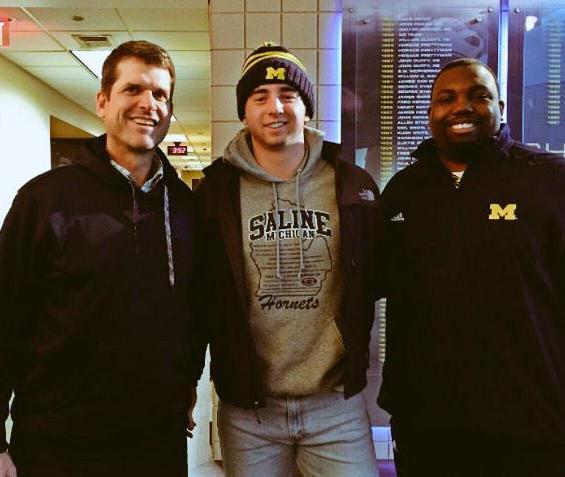 Preferred walk-on linebacker Chris Terech with Jim Harbaugh and Chris Singletary (image via MLive)
I meant to get to this last week, but the 2nd annual Michigan vs. Ohio Border Classic took place on Saturday. It has essentially replaced the Michigan all-star game and the Big 33 game, which used to be between Ohio and Pennsylvania. Michigan won the inaugural game in 2014, and they won again this year by a score of 24-7 (LINK). The MVP of the game was Baldwin quarterback Brandon Childress (Central Michigan), who had two rushing touchdowns.
Here's a link to the rosters for both teams (LINK). There are a ton of players headed to the MAC on Michigan's side, but the only player headed to Michigan is walk-on Chris Terech from Saline. Otherwise, there are just a few Michigan connections. First is Farmington Hills (MI) Harrison linebacker Michael Ojemudia (Iowa), the brother of senior defensive end Mario Ojemudia. Also, former Michigan wide receiver Ronald Bellamy is building up a pretty talented program at West Bloomfield, which had two representatives in the game: wide receiver Obbie Jackson (Western Michigan) had 3 catches for 80 yards, and defensive tackle Eddy Wilson (Purdue) also played in the game.
The only Michigan-offered player to participate was Detroit (MI) Cass Tech lineman Joshua Alabi (Ohio State).