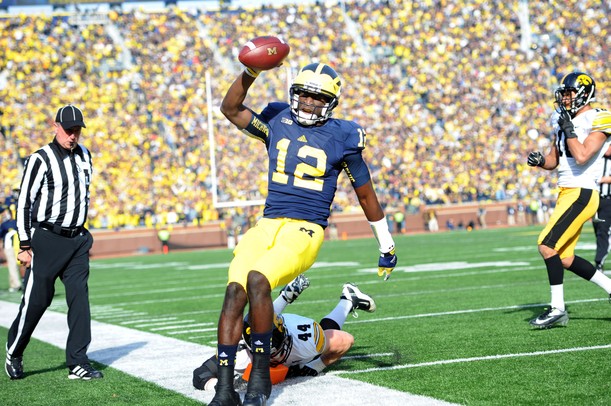 Devin Gardner was responsible for 6 touchdowns on Saturday (image via AnnArbor.com)
Devin Gardner is awesome. Prior to the game, I didn't realize how terrible Iowa's secondary is. In the game preview, I predicted that Gardner would play his worst game as a quarterback. That wasn't close to being true. The Hawkeyes blew coverages repeatedly, and Gardner completed 18/23 passes for 314 yards, 3 touchdowns, and 1 interception; he also ran 9 times for 37 yards and 3 touchdowns. He makes some questionable passes at times, and frankly, he has been lucky several times. Both Northwestern and Iowa have had defensive backs misjudge passes that have allowed for long completions to receivers Jeremy Gallon and Roy Roundtree; better defensive backs pick off or knock down some of these passes, but I'll take it.
That Fitzgerald Toussaint injury hurts. I didn't see it on the initial play, but the replay was nasty. Toussaint is obviously done for the year and I would be surprised if he returns in time for spring ball. There were rumors that he was considering leaving for the NFL after this season, but combined with his mediocre performance thus far, that seems like it won't be an option. Hopefully he can return healthy next year, get back to his 2011 form, and raise his draft stock for 2014. In the meantime, that hurts the Wolverines for the Ohio State game and beyond, because he was improving over the past couple weeks and the backup running backs are just so-so.
I do not like the usage of Denard Robinson. Michigan could have won this game without playing Denard Robinson. He's obviously not fully healthy, and he tweaked his elbow injury in the second quarter. The coaches obviously don't trust him to throw the ball, and tweaking the injury probably means he won't be able to throw against Ohio State, either. Yes, it was fun to watch and it gives Ohio State some other formations and plays for which to prepare, but it also potentially cost the team Robinson's throwing ability, however mediocre. I don't understand the need to unleash those plays and formations on Iowa if Michigan could have surprised the Buckeyes with those things next week.
James Ross, welcome to the Big Ten. Ross got his first career start at WILL in place of Desmond Morgan, and he did a pretty good job. There were a couple issues in pass coverage and he got pushed around when offensive linemen were able to latch onto him, but the kid led the team with 12 tackles That's a pretty good beginning, though he has played plenty throughout the year. My expectation for next year is that Morgan will move to MIKE to make room for Ross to play WILL full-time.
Cover the tight end! Iowa quarterback James Vandenberg didn't really try the outside, but he did repeatedly attack the middle of the field by hitting tight ends. I don't blame him for attacking the middle of the field due to Ross's inexperience, but Iowa has decent receivers and Michigan has so-so cornerbacks. Tight end C.J. Fiedorowicz had 8 catches for 99 yards, and Coble Krieger had 3 catches for 24 yards and 1 touchdown. It was a good day for those guys, but it's tough to keep up a good scoring pace by dinking and dunking your way down the field with 5-yard passes to the tight ends. Kevonte Martin-Manley was the only Iowa wideout to catch a pass, and he finished with 2 receptions for 7 yards.
Josh Furman isn't a safety. Let me mention once again how out of place Furman is at safety. Furman is a good special teams player, but playing safety just isn't his thing. He entered the game late and failed to make a couple plays that were right there. When he's not attacking downhill, he's lost. The kid played rush linebacker in high school, and you just can't move guys back in a defense and expect them to be successful. You can move a kid from corner to safety or safety to linebacker or linebacker to defensive end or defensive end to defensive tackle, but you can't go the other way. If he can hold some additional weight, the coaches ought to bulk him up to play SAM.
Good for the seniors. Twenty-three seniors played their final game at Michigan Stadium yesterday, and they were undefeated at home over the past two seasons. It's a pretty amazing turnaround, because these fifth-year guys were the first Rich Rodriguez class from 2008 that saw Michigan lose on their home turf to Toledo. A bunch of guys got in the stat book in their final home game, including Steve Wilson and Floyd Simmons. Jack Kennedy took the final snap. And Vincent Smith caught a screen pass for a touchdown for old time's sake. Those who stay will be . . . undefeated at home.