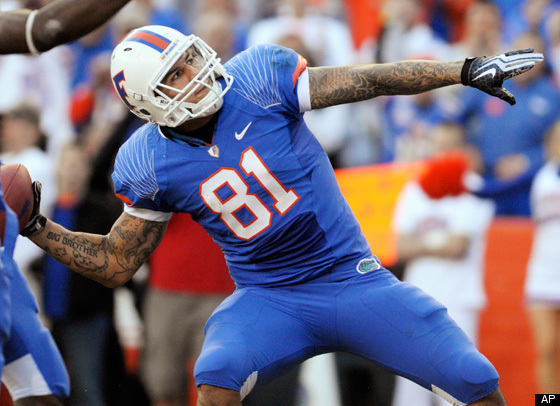 I sure am glad Aaron Hernandez didn't accept his scholarship offer to play for Michigan.
THE ROSTER
Mike Massey, RS Sr.
Andre Criswell, RS Jr.
Chris McLaurin, RS Jr.
Carson Butler, So.
THE RECRUITS
Steve Watson
High school: Denver (CO) Mullen
Ratings: Rivals 3-star, #19 TE
College: Michigan
Other notable offers: Cal, Colorado, Nebraska, UCLA
Scoop: Watson redshirted as a freshman in 2007, then played some on special teams in 2008. As a redshirt sophomore in 2009, Watson moved to linebacker and made 5 tackles, 1 tackle for loss, and 1 pass breakup in limited action. He became a defensive end and even saw some action at defensive tackle in 2010, notching 3 total tackles. With a dearth of tight ends on the team, Watson moved back to offense in 2011 and started four games; he made just 1 catch in his career, but he made it count because it was a 9-yard touchdown against Northwestern. He was not drafted in the 2012 NFL Draft and his football career appears to be finished.
Martell Webb
High school: Pontiac (MI) Northern
Ratings: Rivals 4-star, #29 WR
College: Michigan
Other notable offers: Iowa, Michigan State, Wisconsin
Scoop: Webb played sparingly as a freshman in 2007, mostly as a special teamer but also as a backup tight end. As a sophomore in 2008, Webb mostly sat on the bench behind Carson Butler and Kevin Koger and played in just three games. Still behind Koger in 2009, Webb started just one game but saw more time at tight end and caught 4 passes for 44 yards and 1 touchdown. He started two more games as a senior in 2010 and caught 5 passes for 67 yards and 1 touchdown. Webb went undrafted in the 2011 NFL Draft and has never played in the league, but he has bounced around between the Eagles, Jets, Buccaneers, Cardinals, Colts, Titans, Lions, and now the Indianapolis Colts.
THE TARGETS
Christian Ballard
High school: Lawrence (KS) Free State
Ratings: Rivals 4-star, #10 TE
College: Iowa
Other notable offers: Georgia, Oklahoma, UCLA
Scoop: Watson played defensive end to start at Iowa, making 15 tackles, 4 tackles for loss, and 2.5 sacks as a freshman backup in 2007. He became a starter in 2008 and made 40 tackles, 3.5 tackles for loss, and 1.5 sacks, 1 pass breakup, and 1 forced fumble. Ballard grew into a starting defensive tackle by his junior year and had a very good season with 54 tackles, 9 tackles for loss, and 5.5 sacks; he was named Honorable Mention All-Big Ten. As a senior in 2010, he played both defensive end and defensive tackle and made 43 tackles, 5 tackles for loss, 3 sacks, 3 pass breakups, and 1 forced fumble, once again earning Honorable Mention All-Big Ten. He was drafted in the 4th round (#106 overall) of the 2011 NFL Draft by the Minnesota Vikings after testing positive for marijuana, which caused his draft stock to fall a little bit. He made two total starts in 2011-2012 for the Vikings and totaled 29 tackles and 1 sack. However, he quit football prior to the 2013 season due to a lack of love for the game.
Aaron Hernandez
High school: Bristol (CT) Central
Ratings: Rivals 4-star, #2 TE, #66 overall
College: Florida
Other notable offers: Connecticut, Iowa, Notre Dame
Scoop: Hernandez started three games as a freshman in 2007, including the Outback Bowl against Michigan; he caught 9 passes for 151 yards and 2 touchdowns that year. He became the starter at tight end as a sophomore and caught 34 passes for 381 yards and 5 touchdowns. As a junior in 2009, Hernandez won the John Mackey Award (given to the nation's best tight end) with 68 receptions for 850 yards and 5 touchdowns; naturally, he was First Team All-SEC and a First Team All-American. Hernandez left college after his junior year only to drop to the 4th round (#113 overall) of the 2010 NFL Draft, chosen by the New England Patriots. He made the Pro Bowl in 2011 and totaled 175 catches for 1,956 yards and 18 touchdowns from 2010-2012. He also saw some action as a situational running back, running 9 times for 97 yards in his career. However, Hernandez was allegedly involved in a murder and was arrested during the summer of 2013, for which he is still matriculating through the legal process. It's safe to assume that his football career is over for the foreseeable future, if not permanently.
Blaine Irby
High school: Ventura (CA) St. Bonaventure
Ratings: Rivals 4-star, #6 TE
College: Texas
Other notable offers: Cal, Florida State, Miami, UCLA, USC
Scoop: Irby made 2 catches for 29 yards as a freshman in 2007. As a sophomore in 2008, he caught 10 passes for 95 yards and 2 touchdowns, but he suffered a gruesome knee injury in a game against Rice. He sat out the 2009 and 2010 seasons rehabbing from the injury, which tore his right ACL and MCL and caused nerve damage. Irby returned in 2011 to catch 11 passes for 157 yards and 3 touchdowns. Rather than pursuing a sixth year of eligibility or attempting to make a career out of football, he chose to retire following the 2011 season.
CONCLUSIONS
Michigan actually seems to have done quite a good job of identifying talent at the tight end position in the 2007 class. Ballard made a big impact (at a different position), Hernandez turned into arguably the best tight end in college, and Irby seemed well on his way to a good career, if not for the knee injury. Webb has bounced around NFL practice squads and was somewhat hampered by his situation, where he spent his last three years under a coach who didn't use tight ends very much. Watson, the least accomplished of the bunch, still turned into a mediocre starter and was likely stunted in his development by the Rich Rodriguez offense and bouncing to defense. If he had played tight end his whole career for a coach who valued tight ends more (such as the guy who recruited him, Lloyd Carr, or the guy for whom he finished his career, Brady Hoke).
Biggest miss: Christian Ballard. I suppose the choice here based on talent would be Aaron Hernandez, but his repeated run-ins with the law, failed drug tests, etc. would be a huge black mark on the program. Even if Ballard never played a down at tight end and played defense instead, he turned into a quality player who was NFL-bound.
Biggest bust: Aaron Hernandez. Hernandez had all kinds of talent and could have been one of the most productive tight ends in NFL history, although he might have been limited by Rich Rodriguez's offense. He was probably better off at Florida than he would have been elsewhere, so he made the right choice. Unfortunately, that appears to have been one of the few good choices he has made in his life. I'm glad to say that Michigan has no real connection to him, but it's a sad story overall.
Best in class: Rob Gronkowski. Gronkowski, who went to Arizona, caught 28 passes for 525 yards and 6 touchdowns as a true freshman in 2007 and followed that up with 47 receptions for 672 yards and 10 touchdowns as a sophomore. He missed the 2009 season after having back surgery, but his first two seasons were good enough to earn him a 2nd round selection (#42 overall) by the New England Patriots in the 2010 NFL Draft. Despite suffering from various injuries at the pro level, he has caught 226 passes for 3,255 yards and 42 touchdowns during his four-year career and made the Pro Bowl twice.