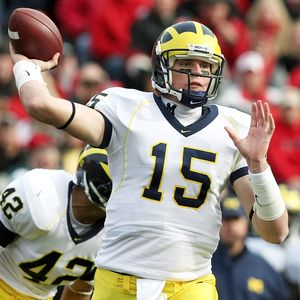 Ryan Mallett
With an upcoming coaching transition, there has been some concern that players will take flight to greener pastures. When Michigan went from a pro-style scheme to a zone read option scheme in the off-season between 2007 and 2008, some offensive players headed out the door. Not much of that can be attributed to the spread. Every team loses players in the off-season. Sometimes players are sick of standing on the sideline, sometimes they get homesick, and sometimes they butt heads with the coaches. Here's a look at what the transition from Lloyd Carr to Rich Rodriguez cost Michigan going into 2008 and beyond.
Decommitted due to coaching transition: John Wienke, Christian Wilson
Wienke, a pro-style quarterback, decommitted in favor of Iowa, where he never saw any significant time. Wilson ended up committing to North Carolina due to the fact that Rodriguez's offense didn't leave a ton of room for fullback/H-back types. Wilson played but never made a huge impact for the Tarheels.
Transferred to other FBS teams between regimes: Justin Boren, Ryan Mallett
Offensive guard Justin Boren would have been a junior starter in Rich Rodriguez's first season, but some alleged frictions between Rodriguez and Boren's family led to his departure. Boren transferred to his home state Ohio State Buckeyes program, where he eventually started and became an undrafted free agent; he never played in an NFL game despite making the practice squad with a couple teams. Meanwhile, his right guard position was taken by David Moosman, who turned out to be a decent but forgettable piece up front for the Wolverines. Theories differ on Mallett, a touted quarterback who transferred closer to home at Arkansas. Some say he was already on his way out the door because of butting heads with Carr; others say he realized he wouldn't fit into Rich Rodriguez's offense. Either way, he was replaced by walk-on Nick Sheridan and Georgia Tech transfer Steve Threet, both of whom were subpar passers and poor fits for Rodriguez's scheme. After the 2008 season,
Left early for the NFL Draft: Adrian Arrington, Mario Manningham
Arrington blew up in his final game, a bowl win over Florida, which might have sealed the deal. His 882 receiving yards and 8 touchdowns in 2007 as the #2 option behind Manningham were impressive, although he slipped into the Draft in just the 7th round, making just 9 receptions in a short NFL career. Manningham had some issues following rules/laws and seemed to be headed for the door after a stellar three-year career; he possibly would have been a 1st round pick if not for a marijuana charge, and instead fell to the 3rd round. He was picked by the Giants and has had a solid but injury-marred career with 2,849 receiving yards and 19 touchdowns.
Transferred to other FBS teams after giving Rodriguez a chance:* Toney Clemons, Vince Helmuth, Dann O'Neill, Steve Threet
Clemons spent a year trying to wedge himself into the slot receiver role for Rodriguez, a role he was ill suited for because he was not very quick or elusive. Clemons had been recruited by Lloyd Carr as an outside wide receiver, and he transferred to Colorado for that reason. He had a decent career for the Buffaloes and managed to get drafted. Helmuth was brought in as a Lloyd Carr fullback, eventually moved to defensive tackle under Rodriguez, and then transferred to Miami-OH, where he never played, either. O'Neill spent a year redshirting and then transferred to Western Michigan, where his lack of lateral mobility was less of a hindrance; he started for several years for the Broncos. Threet got kind of a raw deal. After enrolling early at Georgia Tech in January 2007, he transferred to Michigan over the summer and redshirted during the season, hoping to follow Chad Henne as the starter for the Wolverines. Then when Rodriguez got hired, Threet and walk-on Nick Sheridan split playing time before Threet lit out for his third school, Arizona State. He had to sit out the 2009 season to transfer, and then concussions caused him to end his football career early.
Left early for the NFL Draft after giving Rodriguez a chance:* Carson Butler, Donovan Warren
Butler was unhappy with his role as a tight end in Rodriguez's offense, so he made a mid-season switch to defensive end, finishing with 2 catches, 17 yards, and 5 tackles. He tested the waters of the NFL but was ultimately unsuccessful. Warren left after his third season in Ann Arbor, hanging around through 2009. It's unclear whether a different coach could have kept him around for a fourth season, but Warren was All-Big Ten and made 4 picks in 2009, after which he made an ill-advised attempt at making it in the NFL. He was not drafted and spent a few years bouncing around practice squads.
CONCLUSIONS
If Michigan changes systems to a spread or, say, a triple option, some transfers can naturally be expected. That change seems unlikely based on what we have been hearing, but anything is possible. The one guy who seemed like a possible early entrant into the draft (Devin Funchess) is gone already. The quarterbacks are mostly pro-style guys, so that would present a challenge if Michigan wanted to run any kind of option-type stuff. Michigan has been running a lot of zone schemes, so a loss of linemen would not seem to be a huge risk, regardless of the coach. The receivers are mostly big, pro-style guys who could get squeezed out if the new coach wanted to put tiny slot guys out there in spades. Michigan's stable of tight ends would likely not be happy with a move to a spread, though A.J. Williams will be a senior and Jake Butt could be just a year away from heading to the NFL; the biggest flight risks there would probably be the young guys, Ian Bunting and Khalid Hill, who would still have time to redshirt for a year and make an impact elsewhere.
*There were some other transfers (Sam McGuffie, Marell Evans, Kurt Wermers, etc.) that seemed to have less to do with Rodriguez and more to do with homesickness, academic difficulties, etc.
You need to login in order to vote