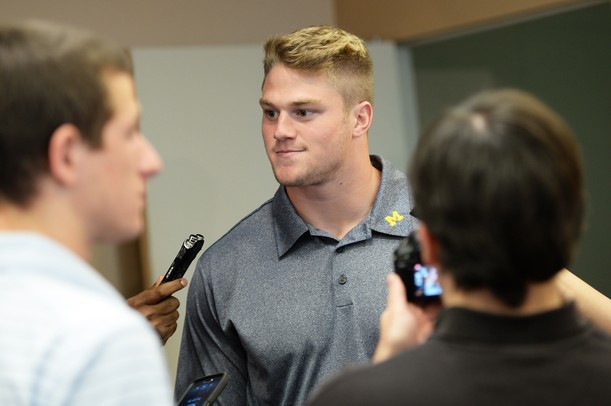 Jake Ryan
Michigan held its annual Football Bust on Monday evening, and here are the award winners from the event:
Bo Schembechler Team MVP: Jake Ryan, LB (5th)
Captains: Jake Ryan, LB (5th) and Devin Gardner, QB (5th)
Hugh J. Rader, Jr. Award (best lineman): Jack Miller, OC (RS Jr.)
Dick Katcher Award (best defensive end/outside linebacker): Brennen Beyer, DE (Sr.)
Roger Zatkoff Award (best linebacker): Jake Ryan, LB (5th)
Robert P. Ufer Award (senior who demonstrates love and enthusiasm for the program): Brennen Beyer, DE (Sr.)
Dr Arthur Robinson Scholarship Award (senior scholar): Joey Burzynski, OG (5th)
I don't think any of these awards would surprise anyone except perhaps the Rader Award. Miller took a lot of heat during the 2013 season for his performance, and he was eventually replaced by Graham Glasgow last year. But he turned into a solid lineman in 2014, which I think is simply proof that experience is key on the offensive line. Michigan improved with two new starters at the offensive tackles, and the interior included two redshirt juniors and a redshirt sophomore. Assuming all five players return in 2015, Michigan will be starting (from left to right) a sophomore, a fifth year senior, a fifth year senior, a redshirt junior, and a redshirt junior. The 2016 season could see a junior, a redshirt senior (Erik Magnuson?), a redshirt junior (Patrick Kugler?), a redshirt senior, and a redshirt senior. Michigan is on its way to having some age and experience across the offensive line once again.
You need to login in order to vote