COMMITMENT
Plantation (FL) American Heritage offensive tackle Kai-Leon Herbert committed to Michigan (LINK).
OFF THE BOARD
Bradenton (FL) IMG Academy defensive end Robert Beal committed to Georgia. Beal was a one-time Notre Dame commit who decommitted several months ago. He's one of several top prospects and Michigan targets to have transferred to IMG Academy for his senior season, though the Wolverines were out of the picture for him.
Murrieta (CA) Valley wide receiver Maurice Bell committed to Colorado. Not to be confused with New Jersey wide receiver Markquese Bell, Maurice talked about being strongly interested in the Wolverines, but nothing ever came close to happening between the two parties.
Houston (TX) Langham Creek running back Toneil Carter committed to Georgia. The #5 running back and #107 player in the country was one of my biggest wants in the 2017 class, but Michigan was never really involved.
Hit the jump for several more guys who made commitments this week, plus some random bits on The Opening and other news items.




Bradenton (FL) IMG Academy safety Grant Delpit committed to LSU. Delpit is a hard-hitting, 6'4″, 196 lb. safety who also has excellent ball skills. He transferred from Texas to IMG Academy this off-season, as well.
Bradenton (FL) IMG Academy offensive tackle Robert Hainsey committed to Notre Dame. Michigan was his in his final three, but MSU and Notre Dame were his leaders at different points, with Michigan always playing second or third fiddle. He originally attended Monroeville (PA) Gateway before transferring to IMG after his sophomore year.
Cheshire (CT) Cheshire Academy athlete C.J. Holmes committed to Notre Dame. A teammate of 2017 wide receiver Tarik Black, Holmes could play running back, wide receiver, cornerback, or safety at the next level. He'll be a dangerous player for Michigan fans to watch when the Michigan vs. Notre Dame rivalry reignites in 2018.
Detroit (MI) Cass Tech offensive guard Jordan Reid committed to Michigan State. While it's an in-state loss to an in-state program, you can see that I ranked Reid as the #18 player in the State of Michigan back in mid-June (LINK). No sour grapes here: I'm not too devastated that he chose the Spartans.
Atlanta (GA) Pace offensive tackle Andrew Thomas committed to Georgia. Michigan was not involved.
THE OPENING
Groton (MA) Lawrence Academy running back A.J. Dillon had a vertical jump of 38.2″, which isn't bad for a guy who's listed at 6'1″, 230 lbs. He finished #9 in SPARQ score. He didn't create a ton of buzz at The Opening, but it's not exactly a setting designed to showcase power backs.
Highlands Ranch (CO) Valor Christian quarterback Dylan McCaffrey looked pretty good in the 7-on-7 tournament. While LSU commit Myles Brennan earned the initial start over McCaffrey, the Michigan commit looked superior and was named 247 Sports' #2 QB performer on Saturday.
Los Lunas (NM) Los Lunas running back O'Maury Samuels had a vertical jump of 44.3″. He was the national leader in SPARQ score going into the event, but he finished 21st at The Opening.
Montreal (Quebec) Vieux cornerback Benjamin St-Juste notched a 4.58 forty, 3.86 shuttle, 36.6″ vertical, and 37.5′ Powerball throw. He finished 25th in SPARQ score.
Here's a chart of the top 30 scorers at The Opening: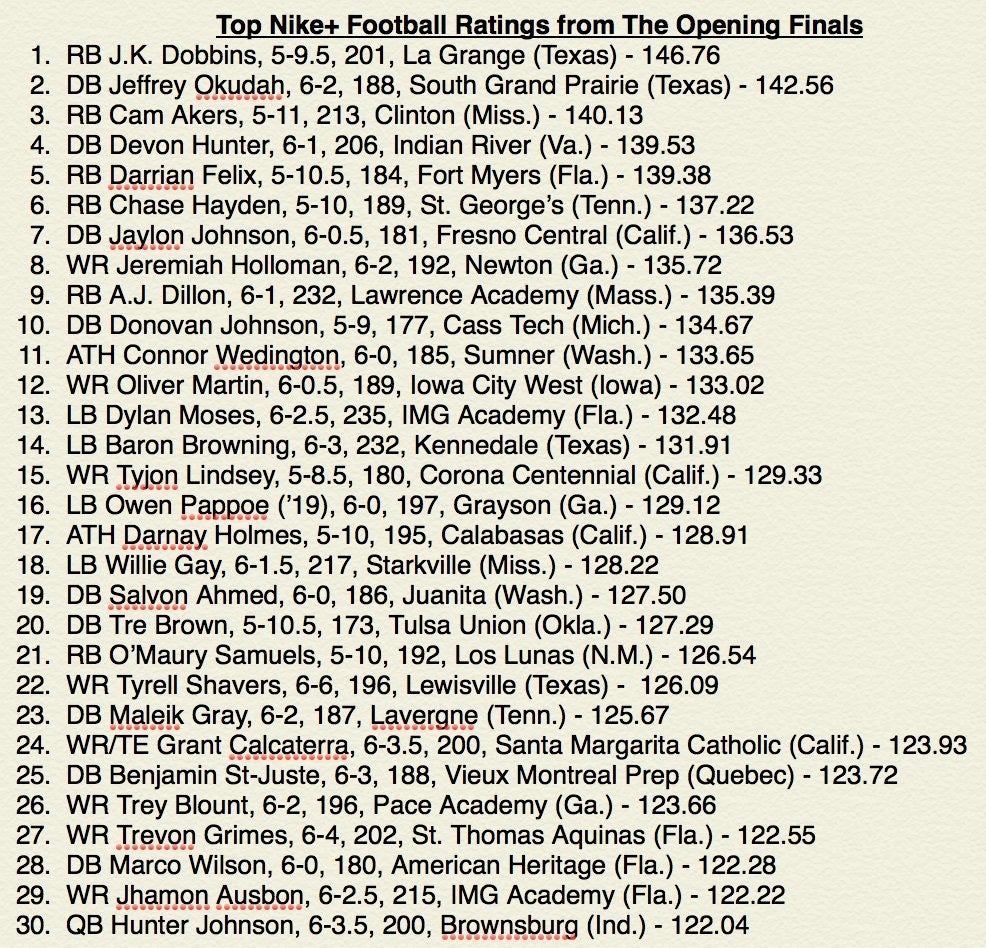 Samuels's previous score would have put him at #2. You'll also notice that former Michigan commit Jeremiah Holloman finished at #8, and Michigan native Donovan Johnson – who doesn't have an offer from the Wolverines – was #10. Detroit (MI) Cass Tech wide receiver Donovan Peoples-Jones, the #1 receiver in the country, did not participate due to an injured hamstring. He won last year's SPARQ national championship, and his score would have been good enough for #1 this year, too.
MISCELLANEY
Mobile (AL) Murphy defensive tackle Neil Farrell named Michigan to his top six.
Rancho Cucamonga (CA) Rancho Cucamonga cornerback Jaylon Redd named Michigan to his top eight.
You need to login in order to vote