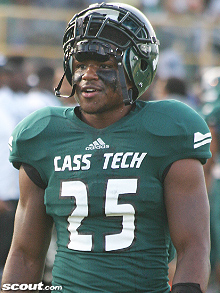 As most diehard Michigan fans know by now, Detroit (MI) Cass Tech running back Michael Weber signed his National Letter of Intent to Ohio State on Wednesday after an intense battle between the Buckeyes and Wolverines. Of course, his position coach and lead recruiter, Stan Drayton, publicly accepted the running backs coach job for the Chicago Bears the very next day. This has prompted a bit of an uproar in recruiting circles and from Cass Tech head coach Thomas Wilcher, a former Wolverine himself who went on the radio to vent about Urban Meyer's disrespect toward Weber and Cass Tech.
The key point is that Weber was on the verge of choosing the Wolverines, and his relationship with Drayton was one of the things that sold him on Ohio State. The final nail in Michigan's coffin was that they had accepted a commitment from Florida running back Karan Higdon, which was announced at 8:00 a.m., approximately 2.5 hours before Weber himself announced. Weber thought he was going to be the only running back in Michigan's class. But if he had been made aware of Drayton's impending departure, he almost certainly would have chosen Michigan.
The practice of coaches leaving immediately after National Signing Day without informing recruits is sneaky and slimy and dirty. It's dishonest to recruit17- and 18-year-old kids – or even grownups – into a situation where the recruiter knows the dynamic will change 24 hours after the binding agreement is signed. Texas's defensive line coach did it, UCLA's defensive coordinator did it, and there have probably been more instances this season of which I'm unaware. Coaches spend as much time with these kids as anyone over the next four years and often make promises of helping them reach the next level. It's one thing to take a promotion after a year or two or three, because the flow of life is inevitable. It's quite another to voluntarily leave the next day.
Weber's choices now include accepting his fate and sticking with Ohio State, where head coach Urban Meyer – who almost assuredly knew of Drayton's future – obviously isn't a straight shooter. Weber could also transfer schools, which would force him to sit out the 2015 season, accept a redshirt, and have four seasons to play four seasons at his chosen destination. The third most prominent option would be to fight the National Letter of Intent's validity, legally proving that Ohio State knowingly misled him into his current situation. California defensive tackle Eddie Vanderdoes successfully pulled the third option a couple years ago, which got him away from Notre Dame and to UCLA, where he played as a true freshman in 2013.
For what it's worth, I have heard through the grapevine that Weber wants out of his Ohio State deal, which is understandable considering the distrust he probably has for Meyer. Michigan and Wisconsin are both potential landing spots, as both recruited him hard, and with new staffs in place, everyone is almost 100% secure for the next year, at least. A Detroit-area lawyer has offered his services pro bono to Weber, who has a good case but might not want the headache of going through the legal process. It would be a difficult choice for a high school kid whether to prolong the recruiting shenanigans (Weber got tired of recruiting and does not bask in the attention) or start on the path to four years with an ethically questionable coach.
From Michigan's end, Weber said on National Signing Day that he thought he was the only running back being recruited by the Wolverines. Perhaps there is some distrust there, or perhaps he simply thought Jim Harbaugh would wait for Weber's decision before accepting another running back. Either way, it is a bit naive to think that Michigan – which did not take a running back in 2014 – would risk going a second straight year without a running back signee. If Weber had been given or accepted good advice, he should have reserved his spot with Michigan before Higdon even had a chance to flip. Programs can't gamble like that if they want to find success consistently.
Michigan did something similar to Ohio State back in 2006 when offensive coordinator Terry Malone left for the New Orleans Saints a day after National Signing Day. Of the signees that year, Malone appears to have been the lead recruiter only for Obi Ezeh. While the situation is somewhat similar, Ezeh was a fullback/linebacker who ended up playing defense, and Michigan promoted special teams coach Mike Debord from within to take over offensive coordinator duties. Those facts are somewhat beside the point, but the negative repercussions seem pretty minimal.
As for Weber's future, Ohio State has junior Ezekiel Elliott, sophomore Curtis Samuel, and redshirt junior Warren Ball ahead of him; they also have the nation's #1 running back, Kareem Walker, committed in the 2016 class. They hired Nebraska offensive coordinator Tim Beck to replace Tom Herman, but Beck helped launch the careers of Ameer Abdullah and Rex Burkhead, so that's a positive if Weber ever earns the starting gig. Wisconsin's new head coach, Paul Chryst, is known for a power running game and has sophomore Corey Clement taking over the starting role; they also have a highly touted running back for 2016 in the form of Antonio Williams. Michigan has a top-heavy backfield scheduled for 2015, with three juniors and a redshirt sophomore vying for the starting gig but no 2016 commits in the fold. Regardless of where Weber ends up or when, there's going to be competition.
My guess is that Weber stays at Ohio State, where he would join rising sophomore cornerback Damon Webb and fellow 2015 signee Joshua Alabi, both of whom also went to Cass Tech. The allure of playing for the defending national champions and being "the next Ezekiel Elliott" is significant. The leading rumor right now for Drayton's replacement appears to be Notre Dame's Tony Alford.
If nothing else, this gives Weber an early introduction into the cold, cruel world of "business decisions."
You need to login in order to vote