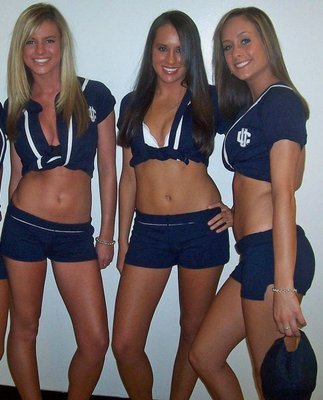 Rush Offense vs. UConn Rush Defense
The Wolverines have better rushing statistics than it might seem; they're averaging 4.96 yards/carry, but that's propped up by quarterback Devin Gardner's 30 carries for 237 yards (7.9 yards/carry) and 4 touchdowns. Running back Fitzgerald Toussaint (55 carries, 199 yards, 3.6 yards/carry, 3 touchdowns) looks recovered from his broken leg, but the offensive line is struggling to open holes. Primary backup Derrick Green has just 2 carries for 2 yards in the last couple games, so he's not really a factor in tight games. UConn's opponents are averaging 4.57 yards/carry; that list of opponents includes Maryland and FCS team Towson. Redshirt junior linebacker Yawin Smallwood (6'4″, 236 lbs.) leads the team in tackles with 30, and the next guy on the list is redshirt freshman safety Obi Melifonwu (6'4″, 208 lbs.) with 15. Melifonwu and and fifth year senior strongside end Tim Willman (6'4″, 267 lbs.) lead the team with 1.5 tackles for loss each. The Huskies have decent size up front with redshirt senior weakside end Jesse Joseph (6'3″, 262 lbs.), redshirt senior defensive tackle Shamar Stephen (6'5′, 313 lbs.), and redshirt sophomore defensive tackle Julian Campenni (6'0″, 298 lbs.). If UConn uses their vanilla 4-3 Over front, Michigan should be able to handle the front four pretty well, but Smallwood can fly all over the field. My guess is that Michigan's offensive linemen come out angry and create some of the holes that were lacking against Akron last week.
Advantage: Michigan
Pass Offense vs. UConn Pass Defense
Gardner has been up and down this year, completing 47/78 passes (60.3%) for 704 yards, 7 touchdowns, and 6 interceptions. He has made some poor decisions in the passing game, and he has a tendency to lock onto his favorite receiver, Jeremy Gallon (18 catches, 297 yards, 4 touchdowns). Sophomore tight end Devin Funchess is the next most targeted receiver (7 catches, 131 yards, 1 touchdown), but the other guys have been somewhat pedestrian. One potential breakout player is 6'3″, 196 lb. redshirt freshman Jehu Chesson, who caught a 33-yard touchdown pass last week and could develop into a deep threat. Melifonwu and senior cornerback Taylor Mack (5'9″, 175 lbs.) have the team's only two picks thus far, but Melifonwu in particular is speed-deficient and could be taken advantage of in the passing game. As for the pass rush, well . . . Connecticut has zero sacks in two games. Smallwood had 3.5 last year, but 22.5 of their 33 sacks graduated after last season. They would be smart to run some twist stunts to confuse the young offensive guards, but as for pure athleticism and skill, it's not really there.
Advantage: Michigan
Rush Defense vs. UConn Rush Offense
Redshirt junior running back Lyle McCombs (5'8″, 175 lbs.) averaged 3.54 yards/carry in 2012, and this year he's all the way up to 3.58. He's the only significant ball carrier for the Huskies. Sixth year senior left tackle Jimmy Bennett (6'9″, 307 lbs.), redshirt senior Steven Greene (6'5″, 308 lbs.), redshirt junior Alex Mateas (6'4″, 315 lbs.), redshirt junior Gus Cruz (6'4″, 309 lbs.), and redshirt sophomore Xavier Hemingway (6'5″, 273 lbs.) make up the line from left to right. Michigan holds opponents to 3.45 yards/carry, and the front seven is considered to be a strength, especially against pro-style running teams. Connecticut can't outmuscle the Wolverines if fifth year senior nose tackle Quinton Washington and/or sophomore nose tackle Ondre Pipkins is on the field. Junior middle linebacker Desmond Morgan and sophomore weakside linebacker James Ross are both very good against the run, so McCombs should find it to be tough sledding. I doubt the Huskies will be able to do much in the running game.
Advantage: Michigan
Pass Defense vs. UConn Pass Offense
Redshirt junior Chandler Whitmer (6'1″, 193 lbs.) is the Huskies' quarterback. He completed 57.6% of his passes for 2,664 yards, 9 touchdowns, and 16 interceptions as a starter last year, and this year he's upped that percentage to 60.8% while throwing for 3 scores and 3 picks. Redshirt junior Shakim Phillips (6'2″, 209 lbs.) is his favorite target with 15 catches for 255 yards and 3 touchdowns; classmate Geremy Davis (6'3″, 215 lbs.) led the team in receiving in 2012 and has 10 catches for 154 yards this season; and junior slot receiver Deshon Foxx (5'10", 172 lbs.) has 4 catches for 54 yards. Meanwhile, Michigan has 5 sacks thus far, 4 of which have come from SAM linebackers Brennen Beyer and Cam Gordon. The Wolverines also have 5 picks, 3 of them dropping into the hands of redshirt sophomore corner Blake Countess. Michigan's defensive backs seem to be playing too far off their receivers this year, causing too few breakups and some easy completions. Unless that philosophy changes, I expect a lot of short completions and then some shots down the field.
Advantage: UConn
Roster Notes
Zero Huskies players hail from the Great Lakes State.
Offensive coordinator/wide receivers coach T.J. Weist was a grad assistant at Michigan from 1990-93.
Quarterbacks coach Shane Day was a quality control assistant at Michigan in 2006.
Director of Football Alumni/Community Affairs Andy Blaylock got a graduate degree from Michigan in 1962.
On a personal note, I saw presentations by Connecticut head coach Paul Pasqualoni and running backs coach Kermit Buggs (at Penn State) at coaching clinics in recent years.
Predictions
Michigan turns on the jets in the running game, going for 250 yards total.
Greg Mattison keeps the corners in soft coverage because he thinks his guys can beat the other guys, anyway.
Michigan comes out pissed off and embarrassed by last week's performance, taking out their frustrations on the Huskies and knocking Whitmer out of the game.
Michigan 38, UConn 14
Last Time They Played . . .
Denard Robinson's first career start at quarterback netted 197 rushing yards, 186 passing yards, and a 30-10 victory.
True freshman Devin Gardner entered the game when Robinson got nicked up, running for -4 yards and attempting 0 passes.
Terrence Robinson had 1 catch for 43 yards, the longest play of the day.
Obi Ezeh led the team in tackles with 9, adding a fumble recovery
You need to login in order to vote