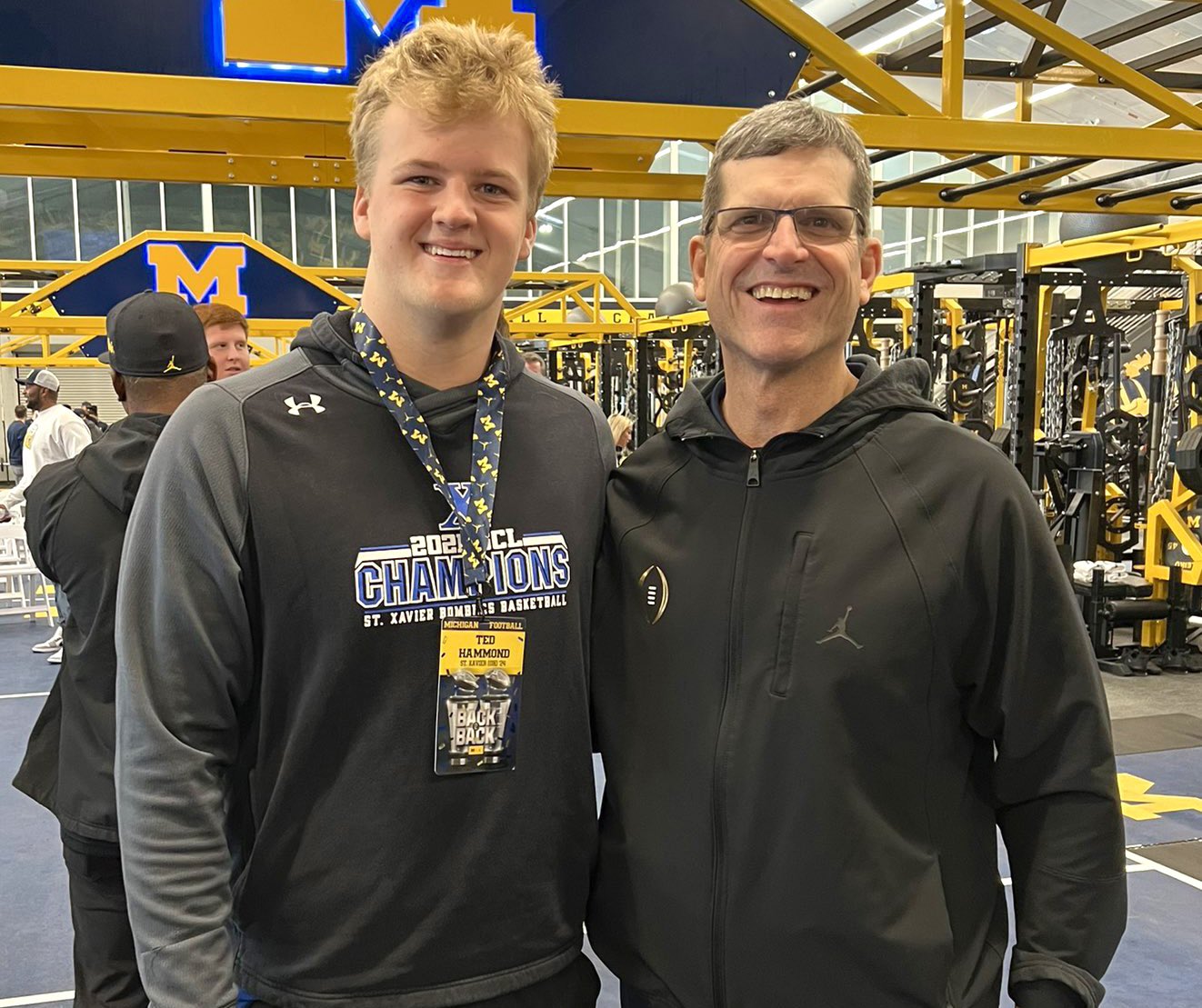 Cincinnati (OH) Saint Xavier defensive lineman Ted Hammond, a 2024 prospect, committed to Michigan on January 25. He picked the Wolverines over offers from Cincinnati, Iowa, Oklahoma, Pitt, and others.
Hammond is listed at 6'5″ and 265 lbs. He claims a 30″ vertical, a 320 lb. bench press, a 565 lb. squat, and a 625 lb. deadlift.
RANKINGS
ESPN: 3-star DT
On3: 3-star, 89 grade, #32 DL
Rivals: 4-star SDE, 5.8 grade
247 Sports: 3-star, 89 grade, #23 DL
Hit the jump for more.
Hammond was offered earlier in January, and it didn't take him long to schedule a visit. A week later he was in Ann Arbor for Michigan's mid-month junior day, and following the visit, he made his pledge public.
Hammond is a good sized body already with room to add weight. He looks every bit of 6'5″, and his thick lower body lets him anchor down and maintain his balance when taking on kickout blocks. He mostly plays an end position as part of a three-man front, but he occasionally kicks down to nose tackle. When playing an interior position, he does a better job of staying low and in a good position to handle blockers. He shows some decently quick feet when chopping to handle short-area changes of direction.
On the negative side, Hammond is a little heavy-footed and is unlikely to play an edge position. The more weight and strength he adds, the better; he will almost certainly be a 3-tech at the next level, playing on the outside shoulder of the guard. His acceleration off the ball is just so-so, and he does not show heavy hands when engaging blockers.
In other words, Hammond is a decent player with limited athleticism. He may earn some effort points, but his ceiling is going to be capped by a lack of overall explosiveness. Give him a couple seasons in the weight room, and perhaps his physical development will start to overcome some of those other deficiencies.
Hammond is the fifth commitment for Michigan in the class of 2024, where he joins fellow Ohioan Luke Hamilton, an offensive lineman. Hammond also joins German defensive line commit Manuel Beigel. St. Xavier typically does not send many players to Michigan despite being a football powerhouse; the last time a St. X player suited up for the Wolverines was in the 1980s in the form of center Andrew Borowski and tight end brothers Mark and Paul Schmerge.
TTB Rating: 65
You need to login in order to vote